Sweeney Todd: The Demon Barber of Fleet Street
Theatrical Release:
December 21, 2007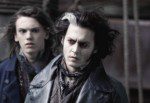 Synopsis
Johnny Depp and Tim Burton join forces again in a big-screen adaptation of Stephen Sondheim's award-winning musical thriller "Sweeney Todd." Depp stars in the title role as a man unjustly sent to prison who vows revenge, not only for that cruel punishment, but for the devastating consequences of what happened to his wife and daughter. When he returns to reopen his barber shop, Sweeney Todd becomes the Demon Barber of Fleet Street who "shaved the heads of gentlemen who never thereafter were heard from again." Joining Depp is Helena Bonham Carter as Mrs. Lovett, Sweeney's amorous accomplice, who creates diabolical meat pies. The cast also includes Alan Rickman, who portrays the evil Judge Turpin, who sends Sweeney to prison and Timothy Spall as the Judge's wicked associate Beadle Bamford and Sacha Baron Cohen is a rival barber, the flamboyant Signor Adolfo Pirelli.
Dove Review
"Sweeney Todd: The Demon Barber of Fleet Street" is a musical as well as a gory slasher film, and some people may be surprised to learn that it has lots of singing and music. A few patrons, particularly young males, soon left the early screening I attended and I had the distinct impression the film wasn't what they expected. However, the majority of the audience remained throughout the film, throat slitting and all. In a symbolic moment of things to come, Todd sings a song of a customer "dripping with rubies."
Johnny Depp is quite adept at singing and did a commendable job. In each role he assumes he is a bit of a chameleon, as this character is unlike any other he has played. His Sweeney Todd is a cold and calculating murderer, always looking for the right moment to use his knife for more than just giving his customer a quick shave. The theme of this film is that senseless killing leads to tragedy for the murderer as well, as the story takes an ironic twist at the conclusion which many in the audience did not see coming.
Unfortunately, despite the talents of the singers and actors, and an effective mood-enhancing lighting and cinematography effort, the violence stemming from the throat slitting prevents us from awarding our Dove "Family-Approved" Seal to this movie as a family-friendly film. It should also be noted that Mrs. Lovett's meat pies are made up from human body parts. This is not a cheery little holiday movie.
Info
Writer:
John Logan and Stephen Sondheim
Reviewer:
Edwin L. Carpenter