Walk Hard: The Dewey Cox Story
Theatrical Release:
December 21, 2007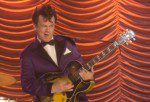 Synopsis
Life made him tough. Love made him strong. Music made him hard.
In Columbia Pictures' new comedy "Walk Hard: The Dewey Cox Story," co-written and produced by Judd Apatow ("Talladega Nights: The Ballad of Ricky Bobby"; "Anchorman: The Legend of Ron Burgundy") and co-written, produced, and directed by Jake Kasdan, John C. Reilly stars as the larger-than-life musician and songwriter Dewey Cox.
America loves Cox! But behind the music is the up-and-down-and-up-again story of a musician whose songs would change a nation. On his rock 'n roll spiral, Cox sleeps with 411 women, marries three times, has 22 kids and 14 stepkids, stars in his own 70s TV show, collects friends ranging from Elvis to the Beatles to a chimp, and gets addicted to — and then kicks — every drug known to man… but despite it all, Cox grows into a national icon and eventually earns the love of a good woman — longtime backup singer Darlene (Jenna Fischer).
Dove Review
This film is a humorous tale about a fictional character who is the blended personalities of several famous musicians throughout history. The film is very "laugh out loud" funny. The themes of this film however are extremely mature. From the language to the full frontal nudity, this film explores the full spectrum of the R rating. Due to this content, "Walk Hard: The Dewey Cox Story" cannot be awarded our Dove "Family-Approved" Seal.
Info
Company:
Columbia Tri-Star Pictures
Writer:
Judd Apatow and Jake Kasdan