Bethany Hamiltons 90 Day Devotional
DVD Release:
January 1, 2008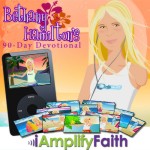 Synopsis
Since losing her arm to a tiger shark at the age of 13, Bethany Hamilton has chosen to use her experience to become an inspiration and help others to overcome adversity, no matter how great.
Join Bethany as she shares her inspirational story, her love of God and surfing and her devotion to following God's word. In these downloads, Bethany shares with young girls her courage and enthusiasm for God, inspiring them to face life head-on and be strong in their faith. Bethany discusses various topics that young girls have to face on a daily basis. Bethany's devotions range from talking about waiting for marriage before having sex to learning how to pray to Jesus. With these conversational devotional downloads, it is easy to start a dialog with your daughter to help guide her through these daily struggles and keep her on the path that God has planned for her.
Dove Review
What a great way to reach your tech-savvy pre-teen girl than with a downloadable daily devotional! This 90-day set of 2-3 minute devotionals provide thoughtful comments and Bible truths delivered in a conversational manner. Each day's devotional subject is supported with Bible truths, a Bible verse, a short prayer (or "chat with God") and brief informational items about surfing or Hawaii. For 90 days, Bethany shares her passion for God as well as her love of surfing and her homeland Hawaii. In addition, each devotional comes with a printable daily companion called 'My Chat With God,' with space for reflections and prayers, as well as a cut-away Bible verse perfect for posting in lockers or using as a bookmark.
I'm certain that you and your child will be touched by Bethany's positive attitude and faith in God. The daily devotionals are from a non-denominational Christian perspective and contain very solid moral principles. We are pleased to award the Dove Family-Approved Seal to this inspirational material.