Hidden in America
DVD Release:
February 8, 2005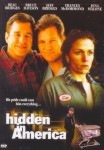 Synopsis
Hard-working Bill Januson (Beau Bridges) is downsized out of his job on the assembly line. His wife's lengthy illness drains his resources, and when he loses her, he loses everything. He refuses to accept government aid or other assistance, and gets a job at a fast-food restaurant, bringing home leftovers to feed his children, Willa (Jena Malone), 9, and Robbie (Shelton Dane), 11.
Prestigious surgeon Dr. Michael Millerton (Bruce Davison) meets Willa when she visits his daughter, who is the same age. Willa, poorly dressed and very hungry, sneaks food from the kitchen. Michael loses a bet with his colleague, Dr. Vincent (Jeff Bridges), and takes his place donating service at the community clinic where Bill brings Willa with a bad cough and persistent headaches. The diagnosis, that the child is anemic and her immune system is weakened by poor nutrition, angers the struggling father.
Through tragedy, Bill and Michael, whose lives are poles apart, recognize their commonality as members of the human family—an understanding
Dove Review
"Hidden in America" takes a close look, through the eyes of one family, at the physical, emotional and psychological effects of an often hidden problem in America, HUNGER. Bill Janison lost his job of seventeen years to downsizing, lost his wife to cancer and lost everything of monetary value to pay her medical bills. Now he's left to raise his two children on a burger flipper's wage. Then he finds out his little girl's sickness is due to poor nutrition. Like the majority of adults, pride gets in the way of his accepting assistance – for a while. But persistence pays off and he does get a full time job.
"Hidden In America" is an eye opening DVD and anyone who sees it will be moved. It has a wonderful story line which pulls the viewer right into the lives of the Janisons. We award "Hidden in America" four Doves and our Dove "Family-Approved" Seal.
Info
Company:
Echo Bridge Home Entertainment