Alien vs. Predator: Requiem
Theatrical Release:
December 25, 2007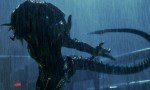 Synopsis
In this follow-up to the worldwide hit "Alien vs. Predator," the iconic monsters from two of the scariest film franchises ever wage their most brutal battle yet in an unsuspecting Colorado town.
Dove Review
In this gruesome and grizzly science fiction film, the aliens have come to wreak havoc on earth while reproducing more aliens. The predator then comes to kill off the aliens. The aliens are killing human beings and using their bodies to hatch their alien babies. The predator, however, isn't focused on killing people. His job is to destroy the evil aliens. The movie is full of action and is extremely gory with killing after killing. Due to the numerous graphic murder scenes, we do not award our Dove "Family-Approved" Seal to this film.
Info
Company:
20th Century Fox
Writer:
Shane Salerno and Dan O'Bannon
Director:
Colin Strause and Greg Strause