The Bucket List
Theatrical Release:
January 11, 2008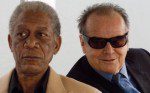 Synopsis
Corporate billionaire Edward Cole (Jack Nicholson) and working class mechanic Carter Chambers (Morgan Freeman) are worlds apart. At a crossroads in their lives, they share a hospital room and discover they have two things in common: a desire to spend the time they have left doing everything they ever wanted to do before they "kick the bucket" and an unrealized need to come to terms with who they are. Together they embark on the road trip of a lifetime, becoming friends along the way and learning to live life to the fullest. Each adventure adds another check to their list, all done with insight and humor.
Dove Review
There is a certain amount of awe that accompanies seeing two major film stars like Jack Nicholson and Morgan Freeman on the same screen. Both men have turned in great performances in the past and both are larger than life on the screen and off. That said, the closest Jack Nicholson has come to making a family-friendly film would be 1989's "Batman" (not reviewed by Dove). This film had the possibility of being viewed and enjoyed by people of all ages, but as you can see from the content listed below, the language was much too offensive.
This is a touching story that shows two men forming a friendship at the most vulnerable point in their lives. Although they are complete opposites in life and would never have met under normal circumstances, they are forced to be roommates in the hospital. As the months pass and they see each other battle illness and undergo difficult treatments, they both receive the difficult news that they will die within a year. They make a list of things they want to do before they die and head off on a road trip. As with most road trip films they do more than cross items off their list, they learn things about themselves and come to terms with their lives.
This would have been a very nice film if not for the language. I enjoyed the story and the acting and there were some interesting subplots. Hollywood would have us believe that it is normal for old men to speak this way, but I found that for at least Morgan Freeman's character it was completely out-of-character. Dove cannot give its family-friendly seal to this film.
Content Description
Sex:
Men discuss the possibility of having an orgy; implied sexual encounter (woman is shown leaving man in bathroom while buttoning up her shirt); woman asks man she just met to go up to her room (nothing happens).
Language:
F-1; J/JC-6 (one reverently); GD-5; G/OMG-4; S-10; BS-1; H-6 (once as a place); D-5; A-3; P-1; B-1; Slang for testicles-1; Slang for erection-1.
Drugs:
Man smokes at beginning of film but it is implied that it leads to his cancer diagnosis; champagne with dinner.