Prima Princessa Presents Swan Lake
DVD Release:
December 1, 2007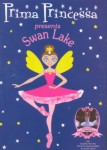 Synopsis
Magical dance adventure!
Created by two moms who love to have fun, Prima Princessa Presents Swan Lake inspires and stimulates young minds. This enchanting new approach to learning about classical ballet through nature, toys, music and laughter will mesmerize children and parents alike.
What's Inside:
The animated fairy ballerina, Prima Princessa, magically transports a group of pre-school girls to see the ballet Swan Lake, performed by the world famous Paris Opera Ballet. Prima Princessa delightfully narrates the story of Swan Lake to the girls. In between each act, the children return home, dress up in fun pretty tutus, and learn a simple ballet step. Each step is playfully shown mixed into a colorful montage of toys, animals, birds, children and young dancers from the School of American Ballet, the official academy of New York City Ballet
Dove Review
This is a great film for young and old, especially those who like ballet. Your child will learn about the theater and see a real ballet. The producers did a great job of telling the story of Swan Lake with the visual aid of the real ballet. The filmmakers also did a good job of shortening the ballet just enough to keep the interest of the children. Your child will be introduced to the basic ballet moves and will learn a little more about this wonderful dance form.This film is awarded the Dove "Family-Approved" Seal for family-friendly-viewing.
Info
Company:
Prima Princessa Prod.
Writer:
Stephanie Troeller; Mary Kate Mellow
Director:
Stephanie Troeller; Mary Kate Mellow
Producer:
Stephanie Troeller; Mary Kate Mellow
Industry Rating:
Not Rated
Starring:
Voice of Nicki Rapp; Students from School of American Ballet and Paris Opera Ballet