Cloverfield
Theatrical Release:
January 18, 2008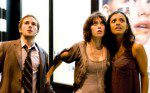 Synopsis
On the eve of his departure for Japan, Rob (Michael Stahl-David) sees his going-away party as an opportunity to confess unresolved feelings and tie up loose ends. His agenda takes an unexpected turn when a jolt shakes the revelers. The crowd quiets down to watch news reports of an earthquake, then rushes to the roof to assess the damage. A fireball explodes on the distant horizon. A power failure follows. Confusion gives way to panic as the partygoers stumble through the blackout and into the streets.
Amid the human screams and one inhuman roar, Rob and his friends must traverse a landscape that has changed, overtaken by something otherworldly, terrifying, monstrous…
Dove Review
First, the good news regarding this dark, atmospheric picture directed by Matt Reeves. The use of a camcorder by a character who records the devastation of the city by alien invaders is handled well. The interaction of this character with the other characters and the surrounding shots and camera angles work nicely in presenting a tension-filled period of chaos and panic. The character taping these events, named Hud (T.J. Miller), is a comical character who sometimes angers his friends by spouting out ill-timed comments when they travel down a dark, apparently vacant New York City street. He says, "I heard of people coming out of nowhere in an area like this and setting a homeless man on fire!"
The unfortunate news is I have never heard so many OMG comments in one film before. It was uttered so many times I almost lost count. And the Lord's name is taken in vain more than once. It was refreshing though to see a character who faced death call on the Lord and ask for forgiveness and help. The violence level also was up with the main concern being the amount of blood which is shown. In one scene which takes place in a medical tent there is a literal explosion of blood. Due to the issue of pre-marital sex, which is strongly hinted at in one scene and discussed without consequences or regret, and the amount of violence and language, Dove is unable to award our "Family-Approved" Seal to this picture. In addition, I heard more than one person complain about the sudden ending of the film, which left some people feeling that they were not given a satisfying conclusion.
Info
Reviewer:
Edwin L. Carpenter