Play and Learn Chinese: Lets visit Dawi Village, Vol 7
DVD Release:
January 25, 2008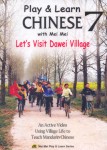 Synopsis
"Let's Visit Dawei Village", set in Central China (Anhui province), explores life in a contemporary agricultural village. Join Mei Mei and learn Mandarin Chinese with the children of Dawei in their simple joyful life as they attend school, do homework, play games, work on the farm and enjoy weekend activities. Experience Chinese culture while learning the language. All language is presented in English, Pinyin and with Chinese characters. The chapters are Transportation, Schoolyard Sports and Games, After school activities, Farm Chores, and Weekend Activities.
Dove Review
What a fun way to teach children about another culture. "Play and Learn Chinese" is a wonderful way for you and your child to learn phrases of the Chinese language. In this film you will see a lot of repetition and many different real life pictures of people acting out the words. I really enjoyed that the DVD taught phases, not just words, and also that it showed the phrase written in Chinese too. This movie is educational and entertaining and would be great to watch to teach children about the Chinese culture.
Info
Industry Rating:
Not Rated
Reviewer:
Stacey Langstraat