Vantage Point
Theatrical Release:
February 22, 2008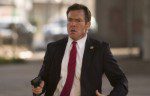 Synopsis
In Columbia Pictures' "Vantage Point," Thomas Barnes (Dennis Quaid) and Kent Taylor (Matthew Fox), are two Secret Service agents assigned to protect President Ashton (William Hurt) at a landmark summit on the global war on terror. When President Ashton is shot moments after his arrival in Spain, chaos ensues and disparate lives collide. In the crowd is Howard Lewis (Forest Whitaker) an American tourist video taping the historic event to show his kids when he returns home. Also there is Rex (Sigourney Weaver) an American TV news producer who is reporting on the conference. It's only as we follow each person's perspective of the same 15 minutes prior to and immediately after the shooting that the terrifying truth behind the assassination attempt is revealed.
Dove Review
As far as action movies go, the positives far outweigh the negatives in "Vantage Point." In most action films, good acting seems to be sacrificed in favor of explosions, car chases and gunfire; not so in "Vantage Point." In fact, impressive performances by everyone in the ensemble cast really drive this film. But viewers looking for thrills will not be disappointed, either. Virtually the entire film consists of action sequences, and well-edited ones at that. As the same dramatic event is seen through the eyes of several different participants, there are exciting chase scenes, explosions, and an intense, well-filmed car chase. The motivations of the characters are slowly revealed throughout the course of the film, and all are not who they seem to be.
"Vantage Point" is an unpredictable, mostly well-done film. There are only a few instances where a suspension of disbelief is necessary, but it only slightly dampens the overall effect. Unfortunately, the use of several biblical profanities, along with the violence, prevent Dove from awarding the Dove "Family- Approved" Seal to this movie. Although most of the violence is not extremely graphic or bloody, the sheer number of people shot would prevent "Vantage Point" from receiving the Dove Seal, even if the language were eliminated. There is also a character who damns someone else to Hell with his language and Dove does not approve films which do this, unless forgiveness or redemption is shown. This is not one for the family.
Info
Company:
Columbia Tri-Star Pictures
Reviewer:
Samantha Vandersloot