10,000 B.C.
Theatrical Release:
March 7, 2008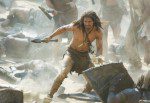 Synopsis
From director Roland Emmerich comes a sweeping odyssey into a mythical age of prophesies and gods, when spirits rule the land and mighty mammoths shake the earth.
In a remote mountain tribe, the young hunter, D'Leh (Steven Strait), has found his heart's passion – the beautiful Evolet (Camilla Belle). When a band of mysterious warlords raid his village and kidnap Evolet, D'Leh is forced to lead a small group of hunters to pursue the warlords to the end of the world to save her.
Dove Review
There is such a thing as trying so hard to please everyone, that you end up not reaching anyone with your efforts. This may be the case with this movie as it was hard to determine exactly what genre it fit under. At times it was clearly fantasy, but at other times it seemed to be a drama and still at other times it seemed to be somewhat of an historical film. In any case, I found the story to be slow moving and when it began to pick up steam it would go off in another insipid direction. It was disjointed for sure and never really flowed. At any rate, the film is loaded with fighting and stabbing and violence and we cannot award our Dove "Family-Approved" Seal to the movie.
Info
Writer:
Roland Emmerich and Harald Kloser
Reviewer:
Edwin L. Carpenter