The Adventures of Robin Hood New (Animation)
DVD Release:
March 1, 2008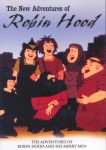 Synopsis
The Crusades had finished and Robin Hood and his band of merry men had disbanded. That is until the Sheriff of Nottingham escapes with the much-valued Crown Jewels of the King. The Sheriff engages the Vikings to overthrow the King and the battle ensues…Of course, Robin Hood succeeds once again—and finally marries the lovely Maid Marion.
Dove Review
At first glance, "The New Adventures of Robin Hood" may look like a very basic cartoon. But looks truly are deceiving! This is a captivating story that will have you drawn in from the beginning. It is a wonderfully written story that picks up where the original "Robin Hood" left off and leaves you looking forward to another episode.
There is a little fighting in the movie but the worst of it is swords clashing and some characters getting their heads bonked together. One character uses the word "bleeding" as a descriptive word which may be a form of British slang. Other than those minor things, "The New Adventures of Robin Hood" is very clean and would make a great family watch. Dove happily awards this gem the "Dove Family-Approved Seal".