Horton Hears a Who!
Theatrical Release:
March 14, 2008
DVD Release:
December 9, 2008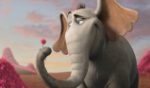 Synopsis
The makers of ICE AGE, and comedy giants Jim Carrey and Steve Carell, bring to life DR. SEUSS' beloved HORTON HEARS A WHO. An imaginative elephant named Horton (Carrey) hears a faint cry for help coming from a tiny speck of dust floating through the air. Although Horton doesn't know it yet, that speck houses an entire city named Who-ville, inhabited by the microscopic Whos, led by the mayor (Carell). Despite being ridiculed and threatened by his neighbors who think he has lost his mind, Horton is determined to save the particle…because "a person's a person no matter how small."
Dove Review
This fantastic adaptation of Dr. Seuss's classic story of "Horton Hears a Who!" is a wonderful production that adapts the storybook perfectly. Using a magnificent combination of stars to bring each character to life with their voice work, it is a colorful adventure that will have everyone laughing at times. This is one of this year's great family movies to see.
Having read this story to my children as they grew up, the creators did not misinterpret the tale or the lessons that it teaches. There could be discussions in the family following a viewing of the film about some of the topics that one can learn from this movie, such as sticking to one's word and believing in others. The entire family will enjoy this adventure with Horton and his friends. With great pleasure this movie is awarded the Dove "Family-Approved" Seal.
Info
Company:
20th Century Fox Home Ent.
Writer:
Ken Daurio and Cinco Paul
Director:
Jimmy Hayward and Steve Martino