Drillbit Taylor
Theatrical Release:
March 21, 2008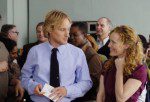 Synopsis
Ryan (Troy Gentile), Wade (Nate Hartley) and Emmit (David Dorfman) attend their first day at high school and they're pumped…until they meet up with Filkins (Alex Frost), a school bully who comes off like a little Hannibal Lecter. Before they become completely engulfed in Filkins' reign of terror, they seek out some protection by placing an ad in Soldier of Fortune magazine. Their best response — and the cheapest — comes from Drillbit Taylor (Owen Wilson), a down-on-his luck soldier of fortune who lives a homeless — he likes to say "home-free" — existence on the beach. He enrolls them in some physical and mental training.
Dove Review
Owen Wilson is a likable actor and a likable character in this film, although he is a bit of a shyster. He is a homeless man who showers at the beach and is barely surviving but he does keep track of his e-mail, and one e-mail changes his life. Three boys starting high school, played by Troy Gentile, Nate Hartley and David Dorfman, are bullied by two other kids, although one of the students is actually eighteen years old. The three easy targets ask for Drillbit Taylor's (Wilson) help, who pretends to be a fighter and bodyguard. He also pretends to be a substitute teacher at the high school, so he can be close to the boys, but he falls for a teacher there and before long he feels the need to confess the truth to her. The film does have some funny moments.
Unfortunately, the film is peppered with foul language, two scenes of rear male nudity, underage drinking and violent bullying and fights. Therefore, Dove is unable to award our Dove "Family-Approved" Seal to this movie.
Info
Writer:
Kristofor Brown and Seth Rogen
Reviewer:
Edwin L. Carpenter