21
Theatrical Release:
March 28, 2008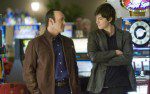 Synopsis
A shy M.I.T. student needs to find a way to pay for school and does so by playing cards. He joins a group of students as they make their way towards vegas for a big pay day. They make their riches by working the gambling tricks of the trade. All they have to do is stay one step ahead of the casino enforcer.
Dove Review
Gambling can be addictive and become a serious problem for some people. The characters in this film think they have it figured out because they are not "gambling", they are "counting cards and playing a system with definite rules". But the glitz, glamor and high of winning gets to even the most pragmatic character who was just in it to win his tuition. We watch as this intelligent student's ego grows and he does some not-so-smart things leading to his complete undoing. This film deals with some seriously negative issues like gambling, cheating, lying and drinking, but in the end the characters seem to come around and learn their lesson.
Although well made and visually appealing, this film was predictable and slow moving. Because of the negative content noted below, we cannot recommend it for family viewing.
Info
Company:
Columbia Tri-Star Pictures
Writer:
Peter Steinfeld and Allan Loeb and Ben Mezrich