Stop Loss
Theatrical Release:
March 28, 2008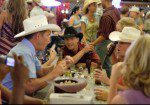 Synopsis
Decorated Iraq war hero Sgt. Brandon King makes a celebrated return to his small Texas hometown following his tour of duty. Brandon tries to resume the life he left behind with the help and support of his family and his best friend, Steve Shriver, who served with him in Iraq. Alongside their war-time buddies, Brandon and Steve try to make peace with civilian life. Then, against Brandon's will, the Army orders him back to duty in Iraq. This upends Brandon's entire world. The conflict into which he is thrown tests everything he believes in: the bond of family, the loyalty of friendship, the limits of love, and the value of honor.
Dove Review
There have always been stories of how servicemen adapt or try to adapt in returning home after serving their country in war. Some seem to do well while others struggle to leave the war behind and get on with their lives. "Stop Loss" not only captures that aspect of America's servicemen, but the film alleges another relatively new and certainly controversial maneuver on the part of the American government. A practice called Stop Loss. According to Wikipedia, the free encyclopedia, "Stop-loss, in the United States military, is the involuntary extension of a service member's enlistment contract in order to retain them beyond the normal end term of service (ETS) or the ceasing of a permanent change of station (PCS) move for a member still in military service. It was first significantly used just before and during the first Persian Gulf War. Since then, it has been used during American military deployments to Somalia, Haiti, Bosnia and Kosovo during the 1990s, after the September 11, 2001 terrorist attacks with the War on Terror, and with the military action in Iraq."
"Federal courts have consistently found that military service members contractually agree that their term of service may be involuntarily extended." Sgt. Brandon King upon his return home not only is haunted by the horrors of war, but is hoodwinked and hounded by the U.S. Military into returning to Iraq. This is a film's depiction of the situation but I wouldI find it very disturbing, if the allegations were true, that young men and women could serve their country with dignity and honor and when they think their service is done, the government were to throw them a knuckleball, forcing them to continue their service to their country. The film indicated a sad statistic that over 650,000 troops have fought in Afghanistan and Iraq and 81,000 of them have been stop loss.
"Stop Loss" was very graphic in both war footage and language and cannot be awarded The Dove Seal. It is not a family-friendly film, but is a film that makes you both proud and sad to be an American-proud by having young people serve our country so honorably and selflessly, and sad if these practices are really happening and more widespread than we realize. Again, this is the viewpoint the filmmakers have taken.
Info
Writer:
Kimberly Peirce and Mark Richard