Smart People
Theatrical Release:
April 11, 2008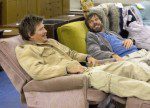 Synopsis
Professor Lawrence Wetherhold (Dennis Quaid) might be imperiously brilliant, monumentally self-possessed and an intellectual giant – but when it comes to solving the conundrums of love and family, he's as downright flummoxed as the next guy. His teenaged daughter (Ellen Page) is an acid-tongued overachiever who follows all too closely in dad's misery-loving footsteps, and his adopted, preposterously ne'er-do-well brother (Thomas Haden Church) has perfected the art of freeloading. A widower who can't seem to find passion in anything anymore, not even the Victorian Literature in which he's an expert, it seems Lawrence is sleepwalking through a very stunted middle age. When his brother shows up unexpectedly for an extended stay at just about the same time as he accidentally encounters his former student Janet (Sarah Jessica Parker), the circumstances cause him to stir from his deep, deep freeze, with often comical, sometimes heartbreaking, consequences for himself and everyone around him.
Dove Review
Quite often smarter people feel superior and privileged and in "Smarter People" Professor Lawrence Wetherhold is no exception. He is the kind of intellectual snob that doesn't bother to get to know any of his student's names much less who they are. In one scene when a student comes to his office seeking assistance, Wetherhold quickly changes the time on his office clock to 5:06 because his office hours end at 5:05. Needless to say he sends the student and his ego packing. Mr. Lawrence is also the guy who takes up two parking spaces no matter where he parks. We all see this from time to time and wonder what type of person has the audacity to take two spots, well-he is the guy. Sometimes it takes a woman to bring a man to his senses and Janet (Sarah Jessica Parker) is up to the task. In one scene at the dinner table she leans over and says to Wetherhold,"45 minutes". He looks confused and says "what" and she fires back that it has been 45 minutes since she uttered one word, dramatically pointing out his self centered personality.
There are some funny moments in "Smart People" but because of the sex, foul language, and drug use, it is not a family-friendly film and Dove cannot award it the Dove Seal. It is really too bad because writer Mark Poirier has a very good premise and I'm sure this would make more money for him and the studios if they would have made it to receive a PG rating like his 2005 film "Yours, Mine and Ours". That film grossed over 72 million dollars worldwide. I don't think this film will gross that much.
Info
Company:
Miramax Pictures