Archko Confessions
DVD Release:
April 7, 2008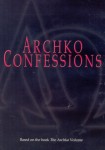 Synopsis
Archko Confessions is based on "The Archko Volume", (the archaeological writings of the Sanhedrin and Talmuds of the Jews), which contains the testimonies about Jesus by his contemporaries: Pontius Pilate, Caiaphas, and Herod Antipas, concerning his arrest, crucifixion, and resurrection. Included in this video record of these documents is the "Acta Pilate," Pilate's report to Caesar detailing the apprehension, trial, and crucifixion of Jesus Christ, and a report concerning Christ's resurrection.
Dove Review
This movie is one for people who want to understand the trial, crucifixion and resurrection of Jesus in more depth. It follows the accounts of the Bible and that of the other people involved such as Pontius Pilate, Caiaphas, Herod Antipas, Jesus, and Ben Isham. I need to stress that this movie is a one-on-one dialog. No scenery other than costumes and some music are added to this production.
Though the movie is slow at times, the expressions and heart of the actors capture your attention. The characters are dressed in traditional clothes, and the accents the actors use make you feel as if you are listening to the actual people of those days.
As you would expect there are references to violence, such as the dragging of the cross by Jesus and Jesus being put to death with the spilling of his blood. There are no actual scenes of violence. We happily award our Dove "Family-Approved" Seal to this DVD.
Info
Company:
Day III Productions
Starring:
Brian Brentham; Robert David; Brian Mathis; Shance Brentham; Michael Clemmons
Reviewer:
Dana Langworthy