Forgetting Sarah Marshall
Theatrical Release:
April 18, 2008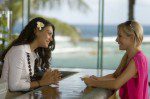 Synopsis
From the comedic minds of the guys who brought you Knocked Up and The 40 Year-Old Virgin comes Universal Pictures' newest romantic disaster comedy – Forgetting Sarah Marshall starring Jason Segel, Kristen Bell, Mila Kunis, Russell Brand, Bill Hader, Paul Rudd, Jack McBrayer and Jonah Hill. For anyone who has ever had their heart ripped out and cut into a billion pieces…here comes a hilarious, heartfelt look at relationships. Part romantic comedy, part disaster film, Forgetting Sarah Marshall is the world's first romantic disaster comedy!
Dove Review
This film could have been a funny look at a man dealing with a break-up by going to Hawaii for vacation and running into his ex and her new boyfriend. But the filmmakers decided to add tons of graphic sex and language making it more about sex than anything else. In addition, Jason Segel must have decided that he needed to share his anatomy with millions of people by appearing fully nude in several scenes of the film. It was played for laughs, but really didn't add to the movie. There were so many sex scenes in this film that I truly think it should have been rated NC-17. We are even subjected to a tutorial about sexual positions and sexual gratification from an over-sexed British rock star.
This film is definitely not for anyone under 18 and many, many people will be offended by its graphic nature. Because of the content listed below, Dove cannot award the Dove "Family-Approved" Seal to this film.
Info
Company:
Universal Pictures