Savvy (Novel)
Book Release:
May 1, 2008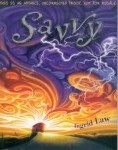 Synopsis
Mibs is about to receive her savvy an (extraordinary know how) on her 13th birthday, but the day before, her father is in a big accident. All she wants is to get to her father in the hospital and to have a savvy that will help her father. She stows away on a bus to get to her father, along the way finding out more than she would like to know. Finally she ends up in Salina at the hospital with her father wanting to help, but can she?
Dove Review
In this book, Ingrid Law digs down to the core of our imagination. She speaks of savvy as an extraordinary way of doing something; whether it's Mamma's being perfect, or Fish's making storms and hurricanes, or Rocket's electric power that breaks light bulbs and electrical equipment. Other Savvies can take us back into our childhood and make us remember when we were young.
At first I thought this was a book targeted at children under age fifteen. Then, as I began to read Savvy, I realized that it's a book for all ages. Even adults will enjoy it, provided they haven't lost touch with their imagination. There are many positive messages throughout that encourage strong family bonds no matter how different each family member may be. One prevailing message I found in Savvy is that "different" is a plus – it means unique, not weird. In the book, Law offers her dissertation about life. She writes: "We are born and sometime later die. And in between we're happy and sad; we feel love and we feel fear; we eat and we sleep and we hurt like everyone else." This text, included in an early draft we read, makes a good point. There is another great meaning from the book; even though bad things happen good things can come out of it.
Savvy will cause you to reflect back to a time in your life when you experienced some trauma or tragedy – a fight, a death – that eventually made you stronger, or enabled you to offer wise counsel to someone about a similar issue in his/her life. At least, that's what happened to me after my encounter with this fascinating story.
This book exhorts us to keep believing in ourselves and that we are valued no matter what someone may think. Overall this is a great story that will capture and keep your attention. The details are quite extraordinary and we award Savvy five Doves, our highest rating.
Content Description
Language:
"Missy-Pissy"; A character is said to have cussed but his words are not written; some crude comments such as dunderhead, dimwit and stupid, idiot, moron and scrawny butt.
Info
Reviewer:
Dana Langworthy