Redbelt
Theatrical Release:
May 9, 2008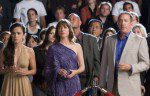 Synopsis
Set in the west-side of Los Angeles fight world, a world inhabited by bouncers, cage-fighters, cops and special forces types, Redbelt, is the story of Mike Terry (Chiwetel Ejiofor), a Jiu-Jitsu teacher who has avoided the prize fighting circuit, choosing instead to pursue an honorable life by operating a self-defense studio with a samurai's code.
Terry and his wife Sondra (Alice Braga), struggle to keep the business running to make ends meet. An accident on a dark, rainy night at the Academy between an off duty officer (Max Martini) and a distraught lawyer (Emily Moritimer) puts in motion a series of events that will change Terry's life dramatically introducing him to a world of promoters (Ricky Jay, Joe Mantegna) and movie star Chet Frank (Tim Allen). Faced with this, in order to pay off his debts and regain his honor, Terry must step into the ring for the first time in his life.
Dove Review
Chiwetel Ejiofor gives a subtle and well crafted performance as Mike Terry, a Jiu-Jitsu instructor who avoids prize fighting and chooses instead to run a self-defense studio which adheres to the honorable samurai code. Terry and his wife Sondra (Alice Braga) are struggling to make ends meet and when an accident between one of Terry's students, an off-duty police officer named Joe, and a depressed lawyer takes place, it sets up a series of events which will lead to Terry's first entrance into the world of prize fighting. Once there, Terry learns of some corrupt practices and must choose between fighting for the money, which he desperately needs, or fighting for honor.
Although there are notable moments of honor in this film, including a powerful conclusion, the movie is sadly peppered with strong language and a graphic scene of suicide and we are unable to award our Dove "Family-Approved" Seal to the picture.
Info
Company:
Sony Pictures Home Entertainment
Reviewer:
Edwin L. Carpenter