Sex and the City
Theatrical Release:
May 30, 2008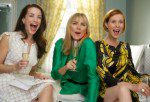 Synopsis
Carrie Bradshaw (Sarah Jessica Parker), successful author and everyone's favorite fashion icon-next door, is back, her famous sardonic wit intact and sharper than ever, as she continues to narrate her own story about sex, love and the fashion-obsessed single woman in New York City. Sex and the City finds Carrie, Samantha (Kim Cattrall), Charlotte (Kristin Davis), and Miranda (Cynthia Nixon), four years after the hit HBO series ended, as our favorite friends continue to juggle jobs and relationships while navigating motherhood, marriage and Manhattan real estate.
"Year after year, twenty-something women come to New York City in search of the two L's: labels and love. Twenty years ago, I was one of them. Having gotten the knack for labels early…I concentrated on love."–Carrie Bradshaw
Chris North reprises his iconic role of Carrie's handsome yet elusive Mr. Big; David Eigenberg as Miranda's down-to-earth husband Steve Brady; Evan Handler as Harry, Charlotte's dependable and loving husband; and Jason Lewis as Smith Jerrod, an actor, client and devoted lover of Samantha's.
Dove Review
This movie based on the hit series of the same name brought all of the girls together one final time to give their characters a send-off into their futures. Although a bit long at times, it was filled with laughter and tears. As each lady experiences some serious change in her life she learns to contend with the change. Carrie is getting married, Miranda has some marital problems, Charlotte has a family and Samantha is getting older. I don't want to give too much of the story away out of respect for the loyal viewers of the show.
Having never watched any of the series when it was on television, I knew I was in for an experience, and boy did I get one. There were no holds barred in this movie. If you want to watch couples having sex, clothes with well known labels, best friends with love stories and of course girls that just want to have a good time, this is all that. Even though the guys may think of it as a chick flick, some have been known to enjoy some of the humor shown in this movie. It was, however, not my cup of tea and it is no surprise that it cannot be awarded our Dove "Family-Approved" Seal.
Info
Writer:
Michael Patrick King and Candace Bushnell