You Dont Mess with the Zohan
Theatrical Release:
June 6, 2008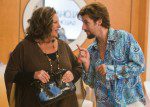 Synopsis
In You Don't Mess with the Zohan, a comedy from screenwriters Adam Sandler, Robert Smigel (Triumph the Insult Comic Dog), and Judd Apatow (Knocked Up), Sandler stars as Zohan, an Israeli commando who fakes his own death in order to pursue his dream: becoming a hairstylist in New York. Dennis Dugan directs.
Dove Review
This film probably has something in it to offend just about everyone. It is filled with sexual slangs, innuendos and some scenes of rear nudity. Not to mention some very strong language. Although the characters at the end, some of which are Arab and others Israelis, talk of being like a family in America, the strong stuff is way over the top and can't justify the small amount of good in the film. This movie doesn't remotely resemble a family-friendly film. There is talk of having sex with former and possibly future first ladies of America. There are a few funny moments which don't rely on gutter humor, but the taste left in my mouth when I left this film was a bad one. Go see "Kung Fu Panda" or "Indiana Jones" which is far closer to a family film than this one is.
Info
Company:
Columbia Tri-Star Pictures
Writer:
Adam Sandler and Robert Smigel
Reviewer:
Edwin L. Carpenter