The Food Boy Adventures of
Theatrical Release:
September 5, 2008
DVD Release:
April 3, 2009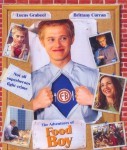 Synopsis
Limited Theatrical Release – High School Musical's Lucas Grabeel stars in this hilarious and endearing comedy about a teenager who is shocked to learn he possesses an extremely rare talent – he can make food appear in his hands.
Ezra (Lucas) has big plans He may be just a nerdy teenager but he wants his life to be …extraordinary. He summons his courage and enters the race for class president, knowing he doesn't stand a chance. Just as Eza is about to lose the election in a landslide, something inexplicable begins happening to him. Without warning, a stream of shaved pastrami and bread and an ocean of mustard shoot from his hands. Shocked and confused, Ezra soon learns that he has inherited the "food gift" from his grandma. Those who've possessed this gift have made most of the world's major food discoveries for thousands of years.
Ezra quickly uses his new super powers to impress his friends and to become popular around school for the first time in his life but his inability to control his power sends Ezra's carefully crafted life plan into a tailspin.
Dove Review
A boy name Ezra finds out he has a gift which he inherited from his ancestors. He wants to go to an Ivy League college. He has a lot of problems in his junior year of high school. So he starts doing magic tricks and becomes very popular, and things workout very nicely for him at the end. This shows that children can be creative and innovative and help themselves out in life. We award our Dove "Family-Approved" Seal to this DVD.
Info
Company:
Cold Spark Films