The Incredible Hulk
Theatrical Release:
June 13, 2008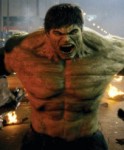 Synopsis
"The Incredible Hulk" kicks off an all-new, explosive and action-packed epic of one of the most popular superheroes of all time. In this new beginning, scientist Bruce Banner (Edward Norton) desperately hunts for a cure to the gamma radiation that poisoned his cells and unleashes the unbridled force of rage within him: The Hulk.
Living in the shadows–cut off from a life he knew and the woman he loves, Betty Ross (Liv Tyler)–Banner struggles to avoid the obsessive pursuit of his nemesis, General Thunderbolt Ross (William Hurt), and the military machinery that seeks to capture him and brutally exploit his power.
As all three grapple with the secrets that led to The Hulk's creation, they are confronted with a monstrous new adversary known as The Abomination (Tim Roth), whose destructive strength exceeds even The Hulk's own. And on June 13, 2008, one scientist must make an agonizing final choice: accept a peaceful life as Bruce Banner or find heroism in the creature he holds inside–The Incredible Hulk.
Dove Review
This is a high energy and action-packed movie. You do get to catch your breath occasionally but not for long. There is a lot of fighting and explosions and a little blood in spots, but the film is so steeped in the Marvel comic-book feel that, although it is pretty well done, it can't be put on the same level as some realistic war pictures of recent years. The viewer will be drawn in but you never forget you're watching the Incredible Hulk and not a soldier.
The Hulk himself has improved considerably since the last installment and his color is much better than the lime green color from the first film. He also simply looks more life-like. There is one scene in the film in which Banner (Edward Norton) and his girlfriend (Liv Tyler) appear they are going to have sex, but they stop short. She does expose some of her thigh in the scene. The film is intense and parents will want to consult our content chart below, Dove cannot award our seal to this film due to the language.
Info
Company:
Universal Pictures
Writer:
Zak Penn and Edward Norton
Reviewer:
Edwin L. Carpenter