Tiny Titan (Book)
Book Release:
June 1, 2008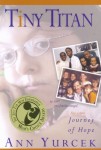 Synopsis
In 1989, the Yurcek's sixth child, Becca was born with a rare genetic disorder, and while she struggled to survive, her family tumbled into poverty. This is the true and inspirational story of their journey out of poverty and the many miracles they received along the way.
Dove Review
Ann Yurcek writes, "Adversity is a gift, without it we would not know we had been blessed." From chapter one on Ann shares hardships the average person can relate to, and some that many cannot. The early days of her marriage to Jim, working, and Jim going to college is something people can relate to, including the birth of their first child. Their financial struggles and frugality being their friend is also something many people can identify with. The first five children had been healthy but Ann knew something was different about their sixth child, Rebecca, as "her features looked different." It was later learned she suffered from Noonan syndrome. This is something that some readers will marvel at as many people cannot fathom enduring such a trial and test.Their lives in Kalamazoo are thoroughly examined in this book.
This is a long read, 467 pages, but the reader will come to admire young Becca, who became known as "Tiny Titan" due to her size and warrior-like spirit. And they will admire her mother, Ann Yurcek and father Jim, and the other children who try to live as normally as they can. Their faith in God and the help of their pastor and friends sustained them. The reader will enjoy learning about Becca's excitement about being a bridesmaid in a wedding. This is ultimately a story of triumph. When $1,500 comes in just in time to save the family's home, most readers will have a tear in their eyes. It is, however, a story for mature readers due to the subject matter, and we recommend it for ages twelve and above. We gladly award our Dove "Family-Approved" Seal to this inspirational story.
Content Description
Drugs:
The mention of people who abused drugs and the price they paid; drugs used to help Becca; someone being put on antidepressants; a child on Ritalin is mentioned.
Other:
The pain of dealing with a sick child and subsequent surgery; dealing with unanswered questions in life; frank details about some of the rebellion of a few of her children; dealing with the death of a close friend; the power of prayer and answered prayers are mentioned; dealing with medical bills.
Info
Company:
Better Endings New Beginnings
Reviewer:
Edwin L. Carpenter