WALL-E
Theatrical Release:
June 27, 2008
DVD Release:
November 18, 2008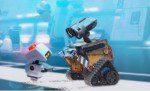 Synopsis
Academy Award®-winning writer-director Andrew Stanton ("Finding Nemo") and the inventive storytellers and technical geniuses at Pixar Animation Studios ("The Incredibles," "Cars," "Ratatouille") transport moviegoers to a galaxy not so very far away for a new computer-animated cosmic comedy about a determined robot named WALL•E.
After hundreds of lonely years of doing what he was built for, WALL•E (short for Waste Allocation Load Lifter Earth-Class) discovers a new purpose in life (besides collecting knick-knacks) when he meets a sleek search robot named EVE. EVE comes to realize that WALL•E has inadvertently stumbled upon the key to the planet's future, and races back to space to report her findings to the humans (who have been eagerly awaiting word that it is safe to return home). Meanwhile, WALL•E chases EVE across the galaxy and sets into motion one of the most exciting and imaginative comedy adventures ever brought to the big screen.
Dove Review
WALL-E (Waste Allocation Load Lifter Earth-Class) is doing his job on Earth in 2775, picking up garbage but his curiosity often delays his work as he finds fascinating objects. The robot finds interesting items like a Rubik's Cube, an old video tape of "Hello Dolly" (he loves the music from the film) and popping paper. When he sees a couple singing to each other in "Hello Dolly", he realizes he is lonely.
Soon Eve enters (WALL-E calls her Eva) as a probe droid, sent to earth to search for plant life. The earth has been through an obvious catastrophe and the present day humans are dwelling in space, hoping to eventually return to earth. Lonely WALL-E falls for Eve and introduces her to the fun of popping the popping paper and watching "Hello Dolly" on video. She likes him too but soon the space ship which returns for her leads them both from earth, but will their destinies remain entwined?
This is a cute story with several humorous moments and the audience of all ages I screened it with seemed to genuinely enjoy it. There are no scenes which are overly intense, the worse being when it momentarily appears a main robot might have passed on. Pixar always does a great job with the animation and we happily award "WALL-E" our Dove "Family-Approved" Seal. Take your family on this exciting adventure with WALL-E – it is a trip you will not soon forget.
Info
Writer:
Andrew Stanton and Jim Capobianco
Reviewer:
Edwin L. Carpenter