Hermie and Friends: Buzby and the Gumble Bees
DVD Release:
August 1, 2008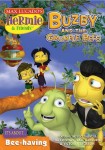 Synopsis
From the series that brought you the #1 children's video of 2005 and 2006 in Christian retail, comes a fun story about the importance of good behavior. The garden bugs secretly agree to help Buzby show his misbehaving niece and nephew how unpleasant life would be if everyone misbehaved the way they do. After a few encounters with misbehaving bugs-seeing how dangerous, gross, and uncomfortable things can become when no one cleans up after themselves, uses good table manners, or gets enough sleep- Beebee and Buddy decide to practice good behavior.Included is an interactive CD-ROM with read-along story, song, coloring pages, computer game, wallpaper, and screen saver for use on Windows® PCs. The read-along story is also playable on a CD player.
Dove Review
The DVD starts out with Max and Hermie talking about being young and having to do chores and respecting your parents and elders. Buzby is asked by his sister if he will watch her two kids, Beebee and Buddy. Uncle Buzby informs them of the rules of the beehive. Pick up after yourself, respect others, have manners, no talking with your mouth full, no talking back. Beebee and Buddy decide to go out into the garden and visit the ladybugs. The ladybugs don't clean up after themselves or have manners. After a while Beebee and Buddy decide manners and being polite aren't so bad. They go back to Uncle Buzby's beehive. They are on their best behavior. This DVD let's children know that even insects have to follow the rules.
This DVD also offers extras, as "Buzby's spelling bee", and a song called "Behave in the Beehive". This DVD has been awarded the Dove " Family-Approved" Seal.