Hermie and Friends: Buzby the Misbehaving Bee
DVD Release:
August 1, 2008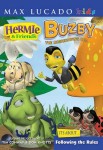 Synopsis
In another adventure from Hermie and Wormie, the garden is all abuzz when the newest character, Buzby, storms onto the scene. That buzz grows into an all-out roar as Buzby, the Misbehaving Bee, wreaks havoc on the safe serenity of the garden. Despite Hermie and Wormie's attempts at intervention, Buzby shows absolutely no respect for The Garden Golden Rules-after all, the self-proclaimed "king of the bees" follows no one's rules! But Buzby becomes a devoted rule follower-fast!-when the King of all creation steps in and Buzby learns that rules are there to keep everyone safe. The same all-star cast from the hit Hermie and Friends video series-Tim Conway, Don Knotts, Vickie Lawrence, and Melissa Disney. Buzby, the Misbehaving Bee is sure to keep the whole family rolling with laughter and learning with love.
Dove Review
Buzby the bee lives in a beehive high in a tree He dresses, talks, and acts like a fifties singer. He spells words out loud after he says them. Hermie is in the garden, he hears a noise and it is Buzby working on his beehive in the middle of the night. Buzby has no respect for anyone in the garden. He tells everyone he is the " King of the Bees". When you live in the garden you have to follow ten Golden Garden Rules. The Most important one is don't open the gate. The ladybug twins think Buzby is cool. So they follow him around, and the three of them come to the gate that is supposed to be shut at all times. Buzby decides he going to break that rule also. So he opens the gate. A real threat to the garden insects was in that gate. So Buzby ends up having to save the garden insects. He learns that rules are made to protect you. God too has rules you need to follow.
This whole series of DVDs on the garden insects is a delight to watch. The DVD also has A read-a-long book, honey Recipe and a trivia game. This Series has been awarded the Dove "Family-Approved" Seal.