Hermie and Friends: Webster the Scaredy Spider
DVD Release:
August 1, 2008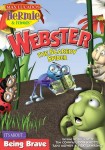 Synopsis
Max Lucado's Hermie and Friends™ is proud to introduce the third movie in this series… "Webster, the Scaredy Spider!" "Did someone say SPIDER?! AGGHH!" (Well-Hermie is proud to introduce him. Everyone else just runs in fear.) With little regard to the "Garden Treaty of '85," Webster wanders into the garden to face his long list of fears: leaving home, other insects, talking in front of others, meeting new people, big lizards, water, heights, flying through the air, dark places . . . (You get the point.) Little does he know that he is a big, hairy source of fear for all of the other insects in the garden. But with guidance from God (after, of course, getting up the courage to talk to Him), Webster finds a way to face his fears, and in turn, the other insects learn to face Webster. Kids of all ages will appreciate this light-hearted reminder that God is always beside them.
Dove Review
"Webster" is a young spider who is on vacation. His travels bring him to the garden. Hermie, Wormie, the ladybugs and all the other insects are afraid of him. What they don't realize is he is just as scared of them as they are of him. God helps Webster to get over his fears. The insects want Hermie to tell Webster he has to leave the garden. Then the ladybug twins are in danger and Webster saves them with the special ability God has given him. The garden insects decide he can stay. There is one place in the garden that really frightens Webster and with God's help he conquers that fear. This DVD helps children to realize that they have nothing to fear with God watching over them.There is also a sing-a-long video and read-along book. This DVD has been awarded our Dove "Family-Approved" Seal.