Hermie and Friends: Nutty Adventure
DVD Release:
August 1, 2005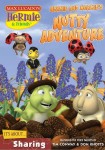 Synopsis
From the series that brought you the #1 video of 2005 in Christian retail, comes a fun story about sharing.
The garden literally goes "nuts" when a shortage of nuts causes panic, especially with the Garden Talent Show and Tell starting tomorrow. And wouldn't you know it–everyone's talent involves a nut. With only one nut left in the entire garden, friends turn into enemies as it's a mad dash to see who grabs the last, elusive nut. To remain friends and to save the show, the bugs must learn to share.
Dove Review
Max and Hermie begin the DVD by talking about "God". They mention how in the Bible, in the book of Proverbs there is a verse that starts out, "A lazy person wishes for more, a good person gives back." Acorns are dropping from the trees. The garden insects are going to have a talent show. They need acorns or nuts as they call them for some of the acts. Lucy lady bug wants to make a cake with nuts in it. Antonia wants to weight his bar bell with two nuts. The twin ladybugs want to bowl with a nut. So the garden insects go on the search for the nuts. They are not able to find any. So Hermie has a collection and as in the Bible Hermie gives back to help his friends be able to have their show.
They also have a trivia game and a Don Knotts tribute on the DVD. This DVD is awarded our Dove "Family-Approved" Seal.