Hermie and Friends: Hermie the Uncommon DJ
DVD Release:
August 1, 2008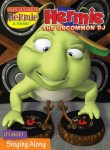 Synopsis
The show opens with "DJ Hermie" on stage with visor cap cocked to one side. He is manipulating two turntables and looks to camera. "Oh, hi kids"… Hermie goes on to talk about all the great music in the Hermie series and introduces the first song. Hermie continues as host/DJ with short transitions from song to song and wraps the show after the last video. All of the songs will include the animation "set up" and "close" so the full meaning behind the lyrics can be realized. Bonus Features include karaoke-style sing-along versions of each song as well as down loadable mp3 files and sheet music. Songs from this bestselling series include: I'm a Mantis That Just Can't Pray, Tomatos Rock! Blueberries Rule!, Behave In My Behive, and many more.
Dove Review
Hermie is the DJ For "Bug Requests Live on Garden Television". In these sixteen songs the garden animals sing about God and the good things He helps us find and have in our lives. Some of the songs are, "Here We Go "', "The Truth Will Set You Free"', "Why Can't I be Like Others", "Webster's Fearless Rap", He's The King Of The Bee's", "I Think I stink"', "Nuts For Nuts" and there are a few more. They sing and dance and have lot of fun. I think kids of all ages will like this music DVD. There is also a sing along pop-up video. We award this DVD our Dove "Family-Approved" Seal.