The House Bunny
Theatrical Release:
August 22, 2008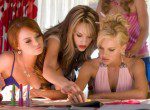 Synopsis
For the girls of ZETA house college life was no party, until Shelley showed up. When Shelly, a Playboy bunny, is tossed out of the mansion, she has nowhere to go until she falls in with the sorority girls from Zeta Tau Zeta. The members of the sorority – who also have got to be the seven most socially clueless women on the planet – are about to lose their house. They need a dose of what only the eternally bubbly Shelley can provide… but they will each learn on their own to stop pretending to be what others want them to be and start being themselves
Dove Review
This "House Bunny" exchanges one house for another! Anna Faris plays a sweet girl named Shelley, who is forced to leave the Playboy mansion when an unscrupulous jealous rival tricks her into believing she is being forced out, right after celebrating her twenty seventh birthday. Shelley winds up at the Zeta Sorority house where the "different" and "unpopular" girls live. She helps them gain confidence and teaches them a few things about fashion and looking their best. They teach her some book knowledge which she uses when she dates a young man she likes, played by Colin Hanks. Soon the girls' sorority house is in danger of being lost due to another sorority's schemes and Shelley desperately attempts to save the day.
Despite Anna Faris' sweetness and kindness and patience in playing Shelley, some strong language is used in the film in addition to a lot of sexual innuendos and we cannot award our Dove Seal to this picture as a family-friendly film.
Info
Company:
Columbia Tri-Star Pictures
Writer:
Karen McCullah Lutz and Kirsten Smith
Reviewer:
Edwin L. Carpenter