Hermie and Friends: Hermie and the High Seas
DVD Release:
August 30, 2008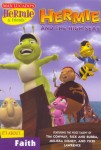 Synopsis
If Hermie is good at anything, it's believing what God says.
Good thing God never says anything unusual to Hermie. Uh-Oh…suddenly there's room for doubt. What possible need would the Garden Gang have for a boat? It hasn't rained in ages – we're in the middle of a heat-wave for goodness sake! And besides, isn't it good enough to believe God just once – why so we have to keep on trusting Him time after time?
Hermie and the High Seas teaches the lesson based on Jesus" words from the mountain-side in Matthew 6 about relying on God to care for your every need. It's about having Faith in God.
Dove Review
Sometimes we lose faith that God knows what is best for us. Hermie and his friends learn a lesson in faith when God tells Hermie to build a boat. No one is willing to help Hermie or listen to him until it is almost too late.
Tim Conway brings Hermie to life as the voice of this cute little caterpillar that displays a great relationship with God. As in all of the Hermie and Friends stories, this fantastic story is told to help reinforce the values that God gives us. The Dove Foundation proudly awards the Dove "Family Approved" Seal to "Hermie and the High Seas".