Righteous Kill
Theatrical Release:
September 12, 2008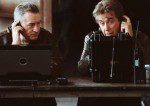 Synopsis
Veteran New York City police detectives are on the trail of a vigilante serial killer in the adrenaline fueled psychological thriller Righteous Kill, directed by Jon Avnet (Red Corner, Fried Green Tomatoes) and written by Russell Gewirtz (Inside Man). The cast also features hip-hop superstar Curtis "50 Cent" Jackson (Get Rich or Die Tryin').
After 30 years as partners in the pressure cooker environment of the NYPD, highly decorated Detectives David Fisk and Thomas Cowan should be ready for retirement, but aren't. Before they can hang up their badges, they are called in to investigate the murder of a notorious pimp, which appears to have ties to a case they solved years before.
Like the original murder, the victim is a suspected criminal whose body is found accompanied by a four line poem justifying the killing. When additional crimes take place, it becomes clear the detectives are looking for a serial killer, one who targets criminals that have fallen through the cracks of the judicial system. His mission is to do what the cops can't do on their own — take the culprits off the streets for good. The similarities between the recent killings and their earlier case raise a nagging question: Did they put the wrong man behind bars?
Dove Review
Make no mistake about it. "Righteous Kill" is not a righteous movie. It does, however, include killing. In fact, a priest who is a pedophile is killed in the film, so once again "Righteous Kill" doesn't seem like an accurate title. Even if you like fast-paced cop movies, the content of this film is strong.
This movie includes strong language; several sexual innuendos, drug use and graphic violence. A family film it certainly is not. The picture contains a lot of action but it is lost in its overwhelming violent and dark scenes. De Niro and Pacino and Dennehy are about as good as usual. Still, there is unfortunately little light in this film for families, very little if any cheerful scenes, and, due to its content, we cannot award this movie our Dove "Family-Approved" Seal.
Info
Reviewer:
Edwin L. Carpenter