Body of Lies
Theatrical Release:
October 10, 2008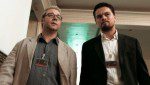 Synopsis
Based on Washington Post columnist David Ignatius' 2007 novel about a CIA operative, Roger Ferris (Leonardo DiCaprio), who uncovers a lead on a major terrorist leader suspected to be operating out of Jordan. When Ferris devises a plan to infiltrate his network, he must first win the backing of cunning CIA veteran Ed Hoffman (Russell Crowe) and the collegial, but perhaps suspect, head of Jordanian intelligence. Although ostensibly his allies, Ferris questions how far he can really trust these men without putting his entire operation – and his life – on the line.
Dove Review
Leonardo DiCaprio does an excellent job in portraying CIA agent Roger Ferris, who discovers a lead on a terrorist authority figure who is working out of Jordan. Ferris is in a position in which he has to be extremely cautious regarding who he trusts. DiCaprio plays the complexities well, as he is able to convey a lot of thoughts with his eyes or just a look. His CIA leader, veteran Ed Hoffman (Russell Crowe), gives him directives which make him sometimes question exactly whose side Hoffman is on.
The plot is rather complex, and is a bit tedious to follow in a few places in the film, but the filmmakers do a good job in helping us see many of the people in the Middle East as just that, people. In a funny scene, Ferris visits a Jordanian woman he is interested in, to meet her sister and her nephews. The nephews do a good job in nodding at him or shaking their heads at the table to let him know what food will taste good and what he should leave alone.
The filmmakers also help us to see how bad things are and that death is a constant in the Middle East. The bad news is that this movie is way too violent for families to see together. There are some graphic torture scenes in which a man's fingers are smashed with a hammer, he is punched in the face, and many other violent scenes flash across the screen including scenes of bombs going off, missiles fired, and blood being spilled. After one explosion, a character picks little pieces of bone fragments off his body which came from the man he was traveling with. The language in this one is also strong and frequent.
For these reasons, we are unable to award our Dove "Family-Approved" Seal to this film.
Info
Writer:
William Monahan and David Ignatius
Reviewer:
Edwin L. Carpenter