Islander
DVD Release:
November 25, 2008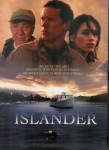 Synopsis
After causing a tragic accident at sea, Eben Cole loses his family, friends and stature in his island fishing community. He returns to the island an outcast but determined to win back the way of life he fought so hard to protect. Set against the stunning backdrop of the Maine coast, Islander captures the grit and integrity of this hard working community and celebrates man's unerring need for redemption.
Dove Review
Living in a small town is always hard but living on an island where people turn their back on you must be really hard. Eben made a mistake and paid for it. Now as he returns five years later, many things have changed, including himself. He must prove himself in the town and eyes of his family.
This is a very intriguing story but unfortunately it cannot be awarded the Dove Seal due to language and other content issues (see chart below).
Info
Company:
Indican Pictures
Starring:
Thomas Hildreth
,
Amy Jo Johnson
,
Philip Baker Hall
,
Mark Kiely
,
Larry Pine
,
James Parks
,
Judy Prescott
,
Ron Canada
,
Dick Barron
,
Zack Batchelde
,
Emma Ford
,
Patricia Randell