Hatari
Theatrical Release:
June 19, 1962
DVD Release:
July 24, 2001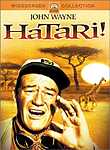 Synopsis
As American game catcher Sean Mercer, John Wayne leads a team of trappers throughout Tanganyika as they capture animals for the world's zoos. Elsa Martinelli plays a photographer who strikes a deal to travel with the crew — against Sean's wishes. Adventure, camaraderie, love and laughs combine against the breathtaking vistas of Africa in this 1962 treat from master director Howard Hawks. Red Buttons also stars as cabbie turned hunter Pockets.
Dove Review
Here is a different movie for John Wayne. When you think of the "Duke' one usually thinks of war movies or westerns, never of him as a leader of a group that capture animals for zoos. This movie has some great footage of the action it takes to obtain a wild beast in Africa. There are some hilarious moments, taking the film on the comedy side every once in awhile, which keeps the 2 1/2 hours on the move.
This movie has some romance and it seems that every time the group is not chasing animals they are having cocktails and smoking. When you think of it any movie made in the 1960s has a lot of the previous combinations. "Hatari" is awarded the Dove "Family-Approved" Seal for 12+.
Info
Company:
Paramount Home Entertainment