Paint Your Wagons
Theatrical Release:
October 15, 1969
DVD Release:
July 24, 2001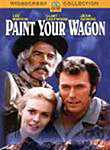 Synopsis
In this adaptation of the 1951 musical by the same name, California prospectors Ben Rumson (Lee Marvin) and Sylvester "Pardner" Newell (Clint Eastwood) try to tame their gold fever by sharing Ben's wife (Jean Seberg). To help the rest of the male-dominated town keep their hands off his property, Ben kidnaps a stagecoach full of working girls on their way to a nearby town and sets up a brothel. As business booms, so does the competition for gold.
Dove Review
Putting Lee Marvin and Clint Eastwood in a western is what everyone would expect. But to think of them in a musical is a hilarious thought. "Paint Your Wagon" combines to make a comical musical western. Just that idea can make you laugh when you add these two men to the mix, In which both sing and in some songs they will crack you up. They are definitely better actors than singers. It is one of a kind, making it a classic.
Although this movie makes fun of the old west, farmers, women and prospecting, in may be offensive to some. Due to some issues in this film, as seen in the content chart below, it cannot be awarded our Dove Seal.
Info
Company:
Paramount Home Entertainment