Chicken Soup for the Soul: Triumphing the Human Spirit
DVD Release:
October 9, 2007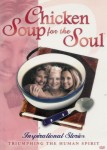 Synopsis
Based on the highly popular life philosophy anthology, The Chicken Soup for the Soul Television adaptation is finally being released onto DVD. "Chicken Soup for the Soul: Inspirational Stories Triumphing the Human Spirit" focuses on situations that affect mankind everyday. These stories highlight the power of kindness and loyalty. Michael Tucker hosts this beautifully touching volume that teaches as well as entertains. Let Chicken Soup be your remedy to adversity, conflict and strife.
Dove Review
"Triumphing the Human Spirit" shows us that when our spirits are dampened by other people or situations, we need to look beyond it for the future for something better. Whether life brings us down, due to accident or injury, or just things that depress us, we should try to solve what is bothering us as it can have a positive effect on our outlook on life.
One of the eight stories in this DVD is regarding a young intern who has lost interest in her education and becoming a doctor. Taking some time off, she returns to the hospital to quit. But there is a patient that is in a coma that she must see before she leaves. Before her leave of absence she had read to him and told him how much his wife needed him. As she enters his hospital room he is telling his wife about a dream he had while in the coma that brought him back to his wife.
As I really enjoyed this DVD, so will everyone the watches it. It gives you hope, and helps you see ways that hope may be applied to your everyday life. This DVD has been awarded the Dove "Family- Approved " Seal.
Info
Company:
First Look Studios