Strawberry Shortcake: Lets Dance
DVD Release:
November 1, 2008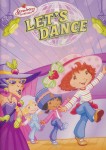 Synopsis
Strawberry and her friends love to dance – and the Peculiar Purple Pie Man of Porcupine Peak is taking advantage of that! He has Sour Grapes open a phony Dance Studio, posing as a famous teacher…so she can keep the kids busy while he plunders the berry crop. But things don't go as planned. Sour Grapes begins to enjoy teaching Strawberry and her friends and can't bring herself to betray them, much to Pie Man's chagrin.
Dove Review
Strawberry Shortcake is one of the most positive and encouraging characters ever. She seems to always find the good in everything. In "Let's Dance" characters learn lessons about acceptance and honesty while preparing different dance shows. My favorite part is when Sour Grapes has a change of heart and chooses to do the right thing by telling the truth and Strawberry Shortcake shows her kindness and support. It was a very big lesson in forgiveness from which even adults could benefit. In the second story the girls meet a new friend who tells some whoppers to get everyone to like her. There is a cute song to teach children to tell the truth and be yourself in order to be a good friend.