Bananas: Featuring Tim Hawkins Act 2
DVD Release:
December 1, 2008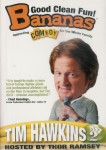 Synopsis
Tim Hawkins returns to the "Bananas" stage for his 2nd act of great stand up and musical parodies that the whole family will love. From being the best home-school principal, to an 8-track cassette lover through and through, Tim explores the insanity of our technology crazed world. Tim also explains the difficulty of eating well in our fast food culture – especially when you have a thing for doughnut glaze. With a bunch of great new material, Act 2 of "Bananas Featuring Tim Hawkins Act 2" is more that just stand up comedy. It's a variety show featuring interviews of the not-so-serious kind, as well as some hilarious unscripted moments caught on tape. Best of all. it's good clean fun for the entire family!
Dove Review
"Bananas" always brings hilarious stand up comedy that will have you rolling on the floor.This DVD features the comical Tim Hawkins. He will bring to life the funny side of reality, from a baby before it has been born or why you may never look at you cell phone the same way. Tim also sings his version of some well known songs. Everyone will have a smile on their faces as they are entertained by this wonderful DVD.
Here is another fantastic DVD to add to your Bananas collection. Dove is proud to award the Dove"Family-Approved" Seal to "Bananas: Featuring Tim Hawkins Act 2".
Info
Company:
Guardian Studios
Starring:
Tim Hawkins; Hosted by Thor Ramsey