Josephs Gift
DVD Release:
January 6, 2005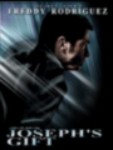 Synopsis
A modern day retelling of Joseph and the Coat of Many Colors set in the Los Angeles Garment District. Joseph is the youngest member of a large family that owns a successful garment business in Los Angeles. His father, Jacob, makes no attempt at hiding the fact that Joseph is his favorite son, resulting in the constant envy and resentment of his brothers. Eventually, in their bitterness, they plot revenge against this favored son. When Joseph accompanies his brothers on a trip to New York, they commit the ultimate betrayal, stranding him there, a virtual prisoner in a corrupt, modern-day sweat shop.
Dove Review
This is an interesting more modern day version of Joseph and the Coat of Many Colors. As everyone knows this is the story of how Joseph's brothers were so jealous of the love his father showed him, and they plotted against him. In this adaptation the setting is of a family in the garment industry. The brothers band together and sell Joseph off to one of the illegal sweat shops were he is held against his will to work. He is later put into an insane asylum where for years he helps others with their problems and dreams.
This is a story of jealousy, deception, faith and forgiveness. Dove awards this movie our Dove "Family-Approved" Seal.
Info
Company:
Alpine Pictures, Inc
Industry Rating:
Not Rated