Gran Torino
Theatrical Release:
January 9, 2009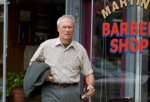 Synopsis
Walt Kowalski is a widower, grumpy, tough-minded, borderline-hateful, unhappy old man who can't get along with either his kids or his neighbors, a Korean War veteran whose prize possession is a 1973 Gran Torino he keeps in cherry condition. When his neighbor Tao, a young Hmong teenager, tries to steal his Gran Torino, Kowalski sets out to reform the youth. Drawn against his will into the life of Tao's family, Kowalski is soon taking steps to protect them form the gangs that foul their neighborhood.
Dove Review
Wow! What a movie to try to describe. Talk about virtues in a film and yet our great concerns here at Dove for an audience all at the same time. It has Clint Eastwood playing Walt Kowalski, a retired Ford Motor Co. worker still living in Michigan (where the movie was filmed). He seems to be a racist by his remarks but he believes in equality and helps a young Hmong teenager named Tao and his family, after a gang begins giving the family trouble. He gives the local priest a hard time when he comes calling. He shows disdain for the church. The priest tries hard to get Walt back into church because the priest had made a promise to Walt's deceased wife he wouldn't give up on him. Despite his lack of respect toward the priest, the priest's persistence wins Walt over and he winds up back in church before the film ends. He also does something special for the church but we won't plot spoil here.
The story includes themes of spending quality time with family without just going through the motions, something that Walt's two sons do. It speaks of sacrifice and forgiveness, as Walt helps a young man who previously had committed a wrong against him. However, with some 70 F bombs, as well as continual strong language used throughout the film, and some violent scenes and strong sexual comments, we are unable to award our Dove "Family-Approved" Seal to this movie.
Info
Writer:
Nick Schenk and Dave Johannson
Reviewer:
Edwin L. Carpenter