Heidi 4 Paws
DVD Release:
February 1, 2009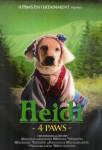 Synopsis
"Heidi 4 Paws" is a live-action retelling of Johanna Spyri's 1880 children's classic, "Heidi", but with fully mouthed-articulated dogs in all of the roles. It tells the story of the young orphan (this time as seen through the eyes of a yellow lab pup) who is sent to live with her reclusive grandfather (in this case an old sheepdog). Just as Heidi adjusts to her new life in the mountains, she is taken away by her social worker (a scrappy beagle). Heidi finds herself living in the big city with Clara Sesehound ( a cockapoo mix), who has been made an invalid after a debilitating illness. Although Heidi comes to love Clara, her quest to return to the mountains dominates her stay. In the end, she is able to reunite with her beloved grandfather. When Clara later comes to visit, the final miracle of Heidi's story is revealed when Clara regains her ability to walk.
Dove Review
This is an amazing adaptation of the story "Heidi". If you and your family love dogs, then this is a movie that everyone will enjoy. As it is stated in the synopsis the entire cast are portrayed by different breeds of dogs, right down to the goats that Peter the goat herder takes care of. The story of "Heidi" will always be a classic no matter how or who the characters are portrayed by.
We award our Dove "Family-Approved" Seal to this wholesome family movie.
Info
Company:
4 Paws Entertainment
Industry Rating:
Not Rated
Starring:
Voices by: Darius Anderson,
Joanne Baron
,
Crystal Barron
,
Kimberly Beck
,
Marshall Bell
,
Majandra Delfino
,
Mike Fishburn
,
Steve Guttenberg
,
Daniel Hanson
,
Theresa Hanson
,
Richard Kind
,
Angela Lansbury
,
John O'Campo
,
Stephen Rea
,
Julian Sands
,
Meghan Strange
,
Kai Vilhelmsen