Inkheart
Theatrical Release:
January 23, 2009
DVD Release:
April 17, 2009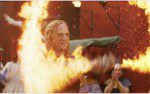 Synopsis
Based on the book by Cornelia Funke, "Inkheart" is a timeless adventure tale of imagination that centers on Meggie, a young girl whose father has a secret ability to bring characters from books to life when he reads them aloud. But when a power-hungry villain from a rare children's fable kidnaps Meggie's father to bring others out of the boundaries of fiction, she and a disparate group of friends both real and magic embark on the kind of adventure she has only read about in books to save him and set things right.
Dove Review
Can you imagine reading a book out loud, then before you know it some of the characters come to life? If you love Brendan Fraser movies add this one to your list. Here he plays Mo, also called Silver Tongue, and he has the ability to bring characters out of a book when he reads about them aloud. The drawback to this situation is that someone takes that character's place. So for many years Mo does not read to his daughter because of his fear of losing her as he did her mother. But together they are on an adventure to make things right. Filled with villains and great characters, this is an amazing adventure that will keep you entertained from beginning to end.
You will want to add this to your collection if you are a Branden Fraser fan. If you appreciate imaginative fantasy movies like "The Wizard of Oz" you will enjoy this film. I must warn you that there are some scary scenes that may frighten younger children. This movie is PG and with that being said this movie is awarded the Dove "Family-Approved" Seal for 12+.
Info
Writer:
David Lindsay-Abaire and Cornelia Funke