The Pink Panther 2
Theatrical Release:
February 5, 2009
DVD Release:
June 23, 2009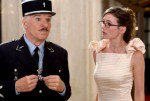 Synopsis
"The Pink Panther 2," the sequel to the 2006 worldwide hit, stars Steve Martin as he reprises the role of intrepid-if-bumbling French police detective, Inspector Jacques Clouseau. When legendary treasures from around the world are stolen, including the priceless Pink Panther Diamond, Chief Inspector Dreyfus (John Cleese) is forced to assign Clouseau to a team of international detectives and experts charged with catching the thief and retrieving the stolen artifacts. Martin is joined by his co-stars Jean Reno (as Ponton, his partner) and Emily Mortimer (as Nicole, the object of his awkward affections). The investigative dream team is played by Andy Garcia, Alfred Molina, Yuki Matsuzaki ("Letters From Iwo Jima") and Bollywood star Aishwarya Rai Bachchan. Lily Tomlin also stars. The story is set in Paris and Rome.
Dove Review
Inspector Clouseau is back (Steve Martin) in his second turn in a "Pink Panther" movie. The film definitely has its moments of humor, most of them as a result of the bumbling inspector. When some new members (known as the Dream Team) join his force to find the criminal known as Tornado, they want to hear the latest on the case. "Let me bring you up to speed," says Clouseau. "We know nothing!" Tornado has been stealing precious relics such as the Shroud of Turin and the Pink Panther diamond. Clouseau is determined to stop him.
He makes things difficult for himself (as always) when he picks up pieces of glass as a clue, and he puts his own fingerprints on the glass. Soon he reaches over to a piece which has someone else's fingerprint on it (the criminal's?) and he tosses it aside, breaking it. Yet Clouseau always seems to notice some important clues that the others have overlooked.
This movie has a couple of double entendres and sexual innuendos, but nothing which crosses our level of acceptability. It has refreshingly very little in the way of language. It is funny, with a lot of slapstick humor, and there was a lot of laughter at the screening which I caught. The Pink Panther is back in your neighborhood. For a humorous good time, check in with the inspector for an hour and a half to see how he is doing these days. We gladly award this movie our Dove "Family-Approved" Seal.
Info
Company:
Sony Pictures Home Entertainment
Writer:
Scott Neustadter and Michael H. Weber
Reviewer:
Edwin L. Carpenter