The International
Theatrical Release:
February 13, 2009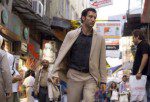 Synopsis
In The International, a gripping thriller, Interpol Agent Louis Salinger (Clive Owen) and Manhattan Assistant District Attorney Eleanor Whitman (Naomi Watts) are determined to bring to justice one of the world's most powerful banks. Uncovering myriad and reprehensible illegal activities, Salinger and Whitman follow the money from Berlin to Milan to New York to Istanbul. Finding themselves in a high-stakes chase across the globe, their relentless tenacity puts their own lives at risk as their targets will stop at nothing – even murder – to continue financing terror and war. Directed by Tom Tykwer (Run Lola Run) from an original screenplay written by Eric Singer, The International is being shot on location in Germany and throughout Europe
Dove Review
The plot of this film is interesting but it's the kind of film in which a trip to the restroom would certainly put a person behind, and possibly regarding key moments.
The theme of putting an end to the terrorists behind a corrupt bank is certainly a theme which many people can relate to in today's society. Terrorist activity is a daily reality and corruption and greed obviously exist in our modern society. Clive Owen does a commendable job as Interpol Agent Louis Salinger and Naomi Watts is also quite good in her more limited role as Manhattan Assistant District Attorney Eleanor Whitman. There is a line in the film which I liked a lot: "Sometimes a man who finds himself avoiding his destiny, will find his destiny on that very road."
However, the violence and language categories are rated four in our Dove content chart, and we therefore cannot award our Dove "Family-Approved" Seal to the movie.
Info
Company:
Columbia Tri-Star Pictures
Reviewer:
Edwin L. Carpenter