True Grit
Theatrical Release:
June 11, 1969
DVD Release:
May 22, 2007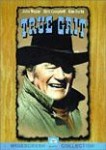 Synopsis
In True Grit, Wayne put the joke in italics by donning an eye patch and several inches of girth to play cantankerous territorial marshal Rooster Cogburn. Critics belatedly noticed that he could be a marvelously entertaining actor, and Hollywood finally gave him the Oscar they'd failed to nominate him for in Red River, She Wore a Yellow Ribbon, The Quiet Man, The Searchers, et al. But make no mistake: True Grit is a splendid movie, with lovingly textured storytelling and sturdy characters, Henry Hathaway's finest high-country action set-pieces, intoxicatingly ornate frontier language, and a couple of formidable bad guys (Jeff Corey's Tom Cheney and Robert Duvall's "Lucky" Ned Pepper). It's a compliment to say that, from a technical standpoint, the movie could have been made any time in Hathaway's 40-year career, yet its feeling for the reality of violence ceded no ground to The Wild Bunch, released around the same time. Still, the film's most sublime passage falls between bursts of gun play: Rooster sitting on a hilltop at night recounting his life story, as John Wayne metamorphoses ineluctably into W.C. Fields.
Dove Review
"True Grit" is a gritty film (pun intended) about the man behind the grit, Rooster Cogburn (John Wayne), a cowboy who is friendly enough, but doesn't ever like to lose. When a teenage girl (Kim Darby) comes to him to help find her father's killer, he is reluctant at first but young Mattie Ross is just as determined as he is. Along with La Boeuf (Glen Campbell), who wants to capture the same killer, they head out on a journey which turns out to be a bit more dangerous than they first would have realized. The film includes themes of perseverance and loyalty.
John Wayne is very good in this film, as always, but unfortunately some strong language prevents us from awarding this picture our Dove "Family-Approved" Seal. I was surprised to see the mild rating of this film as it certainly is not one for the entire family.
Info
Company:
Paramount Home Entertainment
Writer:
Charles Portis and Marguerite Roberts
Reviewer:
Edwin L. Carpenter