Love Takes Wing
Theatrical Release:
April 4, 2009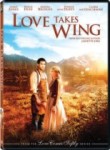 Synopsis
Wounded by the recent death of her husband, Dr. Belinda Simpson (Sarah Jones) arrives in the tiny town of Sikeston to take up the post of town physician. Once there, she discovers that many of the town's residents, including children at an orphanage run by Miss Hattie Clarence (Cloris Leachman), have fallen ill to or died from an unknown ailment. Soon, Belinda begins to worry that she is in over her head, despite reassurances from her best friend, Annie (Haylie Duff), and the town blacksmith, Lee (Jordan Bridges).
Unfortunately, the residents of Sikeston aren't as trusting of Belinda's abilities as a doctor – mainly because she's a woman. As well, many of them don't even want her to help the orphans, who they blame for infecting the rest of the town. Indeed, they would be happy to see the orphanage close altogether. Opposed by what seems like the entire town, Belinda must trust in her abilities, her friends and her faith to guide her.
Dove Review
This is number seven from the "Love Come Softly" tales. Now into the third generation of the Clark family, Missy's daughter, Belinda, is a grown woman with a doctor's degree. She has lost her beloved Drew to illness. Belinda now questions her career and her faith when she goes west to a new town and practice.
As with past stories in this series, there are many lessons to learn regarding love, compassion and faith. Sometimes we all lose sight of our faith when our prayers are not answered in the way we hoped, but it does not mean that God is not listening. This story shows that He has a different plan for us sometimes than we have for ourselves. In "Love Takes Wing", Belinda finds God's plan to continue the legacy of the heartwarming story we all have fallen in love with.
Everyone will enjoy this story as they did the others. We award this movie with our Dove "Family-Approved" Seal.
Info
Company:
20th Century Fox Home Ent.
Writer:
Janette Oke (novel) Rachel Stuhler (teleplay)